Customer Testimonials
Dear Captain TJ,

I just wanted to thank you for a lot of great fishing trips. As you know I often entertain clients by taking them fishing. I've done this for many years and used several different charter guides.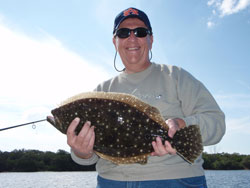 With you I have been pleased not only by the ability to actually catch a large variety of fish but your work ethic. You show up at the dock when you say you will, you always have great equipment and are ready to go. More importantly - you are polite and entertaining to my clients. I have told many of my friends and clients that with you I can take a group of grouchy old men or even my Grandmother and know that they would be treated with respect and have a good time.

One of my favorite trips was when we took a CPA friend of mine fishing who had not caught a fish in 25 years. We started catching red fish and landed so many we lost count. My friend actually landed a 35 inch long red that has its picture sitting on his wife's desk to this day. It took 2 days to wipe the smile off of his face!

Captain TJ - since I met you I have not used another guide and will continue to suggest your services to all my friends and clients!

Sincerely,

Dave Stratton
First Vice President - Investments
Smith Barney
---
Dear Captain TJ,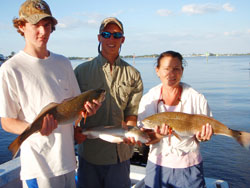 I can't thank you enough for the best fishing trip I've experienced! It was a tremendous thrill for me. Even better is the peace of mind I have knowing that I can take anyone, including my children, after experiencing your extremely professional guide services. My oldest son had the best fishing trip yet and that says a lot. He doesn't like to fish; he likes to catch and he got exactly that!
As you might recall, I finally decided that I needed to go for myself after hearing time and again of my husband's catches while fishing with you. I was so discouraged at not being able to catch any decent fish. I've never caught anything like I did even after our charter. I was so amazed at the number of fish I was actually able to catch after months of frustration trying on my own. It was the best gift I have ever given to myself!
I have told so many of my friends about my charter fishing on your boat. I still can't get over being handed rod after rod already baited and cast out in the perfect spot. Not only that, but I didn't have to untangle my own messes, or even bait my hooks, though I did appreciate you teaching me different ways to hook a shiner. You took care of everything and it was incredible! I still talk about my "Ritz Carlton" fishing experience.
It's great to have a charter captain like you who I feel perfectly comfortable with and know we will have great fishing memories! We will see you again sometime in April as it's my youngest son's turn to go next.
Sincerely,
Michelle (Missy) Plum
---
January 21, 2008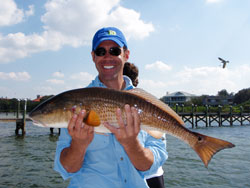 As a participant in the Pediatric Cancer Mercury Grand Slam I recently had the privilege of fishing with Captain TJ Stewart. It was an amazing 2 days of charity, camaraderie, and fish... lots of BIG fish. TJ knew the inland waters, the temps, and the feeding habits like no one I've ever fished with before. He continually took us to hot spots for the Snook, Redfish, and Trout we needed to have a shot at winning the tournament. As much as I considered myself an avid and skilled angler, the two days I spent on his boat were as much fun as they were a learning experience. It is obvious that he truly enjoys what he does. I would highly recommend TJ to anyone, from beginner to skilled angler, out-of-town visitors to locals, and especially anyone with a boat that wants to learn their area fishing from the best in the business.

Tim Wilkins
Comedian/Host of Studio 10-CBS Tampa
---
January 4, 2005
Hello Captain T.J. Stewart from David, Melissa, Haley & Dawson Stark. We were just reminiscing about our fishing with you so I pulled up your web sight and saw my dad's tarpon, Earls tarpon, Melissa's tarpon, (Jeff's not pictured, ha ha) and the kids got me all excited about fishing again.
I still remember the first day we met (I saw one old picture of the green barge) my Dad, Earl and I standing on the sea wall as you pulled up and we thought what a big f-ing boat and look at the kid driving it, we're screwed we thought! That was April 4th 2001!! As I recall you put me on my first tarpon within one hour and an hour after that I landed my first tarpon about 150lbs, boy were we wrong. And the rest is history and many, many fun memories every single time we come.
I always have so many fun fishing stories with you and everyone we take has wonderful memories that you have helped us create. From Jeff snagging two tarpon in the side and his expert skills at stingray fishing, or us having to push the boat out of the very shallow and muddy water at 5:00a.m.(if we wanted to fish). My daughter Haley getting bored because she was tired of catching so many fish that all had black lines on them. I remember taking the banker and his wife "Mrs. I'm melting". My dad's first tarpon off Boca Grande beach while dodging the thunder storms. Earls tarpon taking three hours to land (what a sissy).
Do you remember the rock pile? The day we all sat and watched the old guys in the 40 ft. yacht using florescent green line and the giant bobbers, we thought that was so funny until the poor dude actually had the big one hit and strip his reel, break his rod, and sent him sailing into the cabin. I still think we asked if he was o.k. before we decided to follow the huge bobber screaming across the surface like a jaws movie. I tell everyone this story and it never gets old, how the other guides looked at us as we picked up the anchor and took off after the giant bobber, us stripping the line off my reel in seconds, you grabbing the bobber while earl took the wheel at 25mph, the banker in total disbelief calling us "fish whores", you threading the line on my rod and tying a knot and us yelling the famous "fish on". I still remember someone on another boat saying "that's not right". We fought the fish for about 45 minutes landed it(a 130lb tarpon) and I still have the picture to prove it with the florescent green line still on my reel as a reminder that fishing is fun but catching is way better.
We do catch a lot of fish with you, every time but more importantly I have made a great friend who has taught me so much, thank you T.J. you truly are a great guide!! and you could be even better if you would start packing us a lunch in 2005! I am Looking forward to another great year of fishing.
Sincerely,
David Stark
---
August 17, 2004
TJ, thanks again for an awesome day. We caught a TON of fish. Attached are the photos of my dad. He would be floored if one got on the website. Thanks again. We'll try to get out again very soon.
Eric C. Hoening
---
June 25, 2004
Tarpon Story
Hooked at 630a, landed at 920a - 2 hours, 50 minutes.
8 trips around the boat
hit bait runner TWICE
removed grass algae TWICE
all bait died
almost fell out of boat (what's a gunnal?)
4 under boat Saves (2 over bow, 2 over stern and engine)
gill hooked
1 crab point caught and uncaught
1 captain knocked on his ass after fish changes direction
2 miles on the GPS pulled
HUGE jump after 1 hour of fight!!!
and one completely untied shoe... tied professionally and quickly by the able captain...
Best time I have ever had in my life!!!
Earl M. Furfine
---
June 18, 2004
TJ,
Thanks again for a great day of fishing. I am officially hooked on Tarpon fishing. Hopefully next time I will actually land the fish. You told me to drop you my email address because you might be able to send me whatever you took for photos on your digital camera. Talk to you soon.
Bill
---
June 10, 2004
Captain TJ:

I just wanted to write and thank you for giving Mark and Doug such a good time last week. They really enjoyed their fishing trip. Too bad that Mark lost the "big one," but that just means he'll be back again to fish with you.
We come to Florida almost every summer, so you can bet that we'll use your services again. And Mark is giving your cards to a couple of his friends who come to Sarasota often.
Thanks again. It was a good time for all.
Sandy Dorley
---
June 8, 2004
T.J.
I just wanted to "thank you" again for the incredible time I had fishing with you on 6/8/04 (w/ Kyle Cummings and friends.) I have been on a many charters before, but yours by far has been the best experience ever. Not only because I was able to catch a "monster"tarpon (@ roughly 150lbs and brought in the boat in 15 minutes.... ha ha ) But because your professionalism and friendly character made it even more pleasurable. Since it was my first time tarpon fishing, your guidance and patience were very much appreciated.
You have great skill and knowledge of fishing and have great people relations.You are a natural!
I thoroughly enjoyed my day of fishing and relaxing on your charter.
Thank you again
And I will definitely pass you name and card around to those who would like to have and incredible day of fishing...
Sincerely,
Jennifer Houghtaling
---
Home | Bio | Charters | Tampa Bay | Reports | Gallery | Testimonials | FAQ | Links | Contact
Tarpon | Snook | Redfish | Trout | Shark
Cast Away Charters, Inc.
Tampa Bay – Bradenton – Sarasota – Boca Grande
941-737-5985

Design & Hosting by CyberAngler