Snook Fishing in Tampa Bay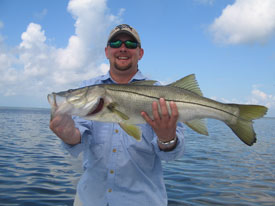 These fish can be caught year round. Depending upon the time of the year it varies on where the fish are staging and how you fish for them. They are commonly known as a hard fish to catch but in the local waters surrounding Manatee County you find some of the best waters anywhere to find these great Snook. Just about any given day, if the weather is not too bad you can find Snook and catch a few.
Winter Snook Fishing
The winter is the toughest time of the year to fish for Snook. The fish in the winter move up in the rivers looking for warmer water. Most of this type of fishing is done with artificial baits on a lightweight-spinning rod. Using the lightweight tackle we throw lures and baits around structures, points, creeks, channels, and tidal flowing areas up in the rivers.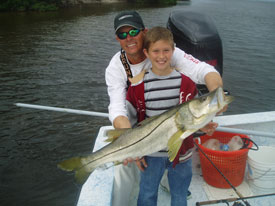 Some of the biggest Snook I have ever seen have come from some of our local rivers. You might be lucky enough to catch one of these trophy fish.
Spring Snook Fishing
Fishing in the spring is one of the greatest times of the year to fish for Snook. Snook are moving out of the rivers so most of our fishing is by the mouths of the rivers. Fishing the flats that surround the mouth of the river is usually the best area to be fishing this time of the year. This time of year we are fishing with live bait usually shiners or pinfish. These fish have been up in the rivers starving all winter they usually come out very hungry. This time of year on just about any given day you can easily catch 20-30 Snook.
Late spring/early summer the fishing stays very good. The fish move out to the flats. You can find the Snook staging in potholes and on grass edges. The tower I have in my boat helps me find the Snook. Then I have to maneuver the boat in order to catch these fish.
Summer Snook Fishing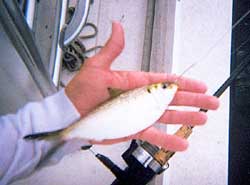 As the summer goes on these fish move into the passes and on the beaches preparing to spawn. Most of our fishing during this time of year is in the passes or on structures on the beaches.
Fall Snook Fishing
Then you have fall fishing. This time of year is as good as the spring fishing. The Snook are moving back to the river, as well as the bays surrounding the mouths of the rivers, and the flats. This is where we are doing our fishing this time of year. The Snook are fattening up for the winter. We are still fishing with live bait until these fish move too far up the river to keep bait alive then we go back to artificial baits.
---
Home | Bio | Charters | Tampa Bay | Reports | Gallery | Testimonials | FAQ | Links | Contact
Tarpon | Snook | Redfish | Trout | Shark
Cast Away Charters, Inc.
Tampa Bay – Bradenton – Sarasota – Boca Grande
941-737-5985

Design & Hosting by CyberAngler