Captain's Biography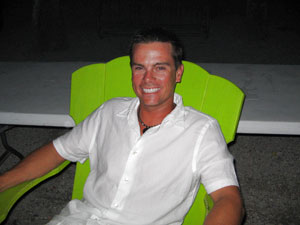 Captain T.J. Stewart of Castaway Charters, Inc. is a native Floridian who grew up in Bradenton, Florida on the Braden River, and therefore, is passionate about fishing on the Gulf Coast. Captain T.J. has been guiding anglers of all skill levels since 2000 when he became a full-time fishing guide, but his fishing goes back to when he was just a boy exploring the waters of Tampa Bay. Castaway Charters, Inc. specializes in inshore fishing with light tackle and near-shore fishing with medium-light tackle.
No matter what you want to catch - tarpon, snook, redfish, trout, shark, or other species, Captain T.J. has the knowledge and years of experience to put you on trophy fish with consistency. You can be sure that Captain T.J. will work hard to give you a day on the water that you'll never forget!
Captain T.J. gives back to the community through a number of charitable organizations. He participates in The Yerrid Foundation Grand Slam Celebrity Fishing Tournament which aides in the fight against pediatric cancer, Hooked on Hope Inshore Fishing Tournament which benefits USF Breast Health and Dr. Charles E. Cox, The Desoto Fishing Tournament which benefits various Manatee County charities, The Fire Charity Fishing Tournament which raises funds for The Children's Burn Foundation of Florida and other local Manatee County charitable causes, and The Sarasota Slam Fishing Tournament which raises funds for the non-profit organization, Homes for our Troops.
He also enjoys participating in the Redfish IFA Tour, The Flatsmasters Elite Pro Redfish Tour, and The Florida Pro Redfish Series. Captain T.J. has made television appearances on "Hooked on Fishing" – Bright House Networks, "Reel Animals Fishing Show" – Sun Sports, Aaron's Outdoors" – VERSUS, Fox Sports South, "Average Angler Adventures" – Bright House Networks, and has been featured on Bay News 9 and in articles in several magazines and newspapers.
Some of Captain T.J.'s best honors and achievements include:
2019 1st Place – Fishing For Hearts
2018 and 2019 1st Place – Fire Charity Fishing Tournament
2017, 2018, 2019 1st Place – Crosthwait Memorial Fishing Tournament – River Masters Division, 1st Place – The Roots Snook Tournament, and 1st Place – Orange and Blue Tarpon Tournament
2017 1st Place – Florida Pro Redfish Series
2016 1st Place – Redfish IFA Tour
2012, 2014, and 2018 Grand Slam Champion – The Yerrid Foundation Celebrity Grand Slam Fishing Tournament
2014 Overall Inshore Winner – Desoto Fishing Tournament
2012 Tarpon Cup Champion – Professional Tarpon Tournament Series
2011 and 2019 1st Place –Tampa Bay BCN Gators Annual Fishing Tournament
2010 Best Overall Captain – Hooked on Hope Fishing Tournament
2008 Sarasota Divisional Champions – Xtreme Redfish Series
2006 and 2008 Overall Inshore Grand Slam Winner/Top Guide – Mercury Grand Slam Celebrity Fishing Tournament
In 2015, Captain T.J. received the Lucky Strike Award from The Yerrid Foundation Grand Slam Celebrity Fishing Tournament. This award is given to the guide who displays excellent character, quality service, and commitment to helping find a cure for Pediatric Cancer.
Captain T.J. was recognized by Mote Marine Laboratory for three consecutive years as a top ten Tarpon Genetic Recapture Study DNA Sampler. This study helps provide the FWC/Mote Marine Laboratory with information on tarpon movement and use of certain bodies of water within a season and between seasons. The samples submitted resulted in more than 100 recaptures.
In 2014, Captain T.J. became a professional guide with Skeeter Boats/Ingman Marine and makes various public appearances on their behalf. He is also a member and active participant in The Coastal Conservation Association of Florida and is dedicated to the conservation of Florida's marine resources.
Captain T.J. lives with his wife, son, and daughter in Bradenton, Florida. When he is not fishing, he enjoys spending relaxed days on the boat, working out at the gym, and spending time with family and friends.
---
Home | Bio | Charters | Tampa Bay | Reports | Gallery | Testimonials | FAQ | Links | Contact
Tarpon | Snook | Redfish | Trout | Shark
Cast Away Charters, Inc.
Tampa Bay – Bradenton – Sarasota – Boca Grande
941-737-5985

Design & Hosting by CyberAngler